09045 Tapti Ganga Express Train Started 1 June
सूरत से होकर के छपरा जाने वाली ताप्ती गंगा एक्सप्रेस 1 जून से शुरू होने जा रही है इसका लिस्ट में नाम है लिस्ट में 52 नंबर पर आप देखेंगे तो वहां पर 090459 09046 करके इसका नाम दिया हुआ है.
सूरत से बनारस आजमगढ़ जौनपुर छपरा इलाहाबाद जाने वाले लोगों के लिए यह ट्रेन बहुत ही प्रचलित है.
इसके साथ ही रेलवे ने बहुत सारे नियम बनाए हैं जो यहां नीचे दिए गए हैं बुकिंग करने से पहले कृपया इसे ध्यान से जरूर पढ़ें.
General instructions regarding the new Indian Railways' trains:
1) Booking of all these trains will commence from 10 am on 21/05/20.
2) Other regular Passenger services including all mail/express, passenger and suburban services shall remain cancelled until further advice.
3) There will be no unreserved coach in the train.
4) Fare shall be as normal and for General (GS) coaches, being reserved, second seating(2S) fare shall be charged and seat will be provided to all the passengers.
5) Only passengers with Confirmed tickets shall be allowed to enter the Railway station.
6) Screening to be done before boarding and only asymptomatic passengers are allowed to enter /board the train.
7) Concessions for four categories of Divyangjan concession and 11 categories of patient concessions are permitted in these special trains.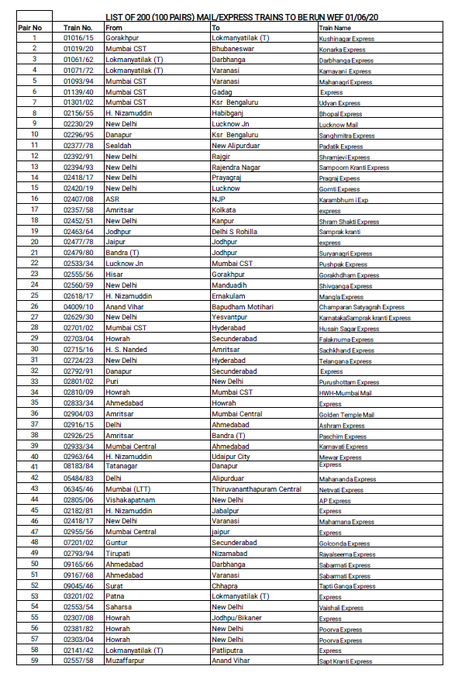 Surat to Chaapra new special Started
Surat to Varanasi New Train Started
New Special Train List Here
200 Trains List Here
बुकिंग करने के लिए यहां क्लिक करें 
09045 Tapti Ganga Express Train Started 1 June